Mates in Mind supports Mental Health Awareness Week 2019 by asking Business Leaders to act now!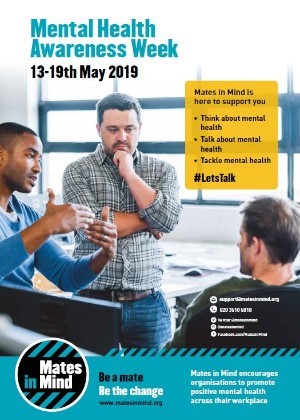 This week Mates in Mind is celebrating Mental Health Awareness Week 2019 alongside more than 250 Supporters and Partners, and through them almost 200,000 workers across the UK. The charity believes business leaders are in a good position to address mental health in the workplace and encourages them to align these conversations with their business values as part of an enduring preventative strategy.
James Rudoni, Managing Director of Mates in Mind said:
"We see that many business leaders across industry, and those engaging with Mates in Mind, have understood the headline message that there is a mental health issue within the workplace. But what we also see is that there is still a relative lack of understanding of how to make sense of this issue within their own workplaces, which is where we as a charity are continuing to invest a significant amount of our focus.
"Mental Health issues impact workplaces right across industry regardless of size. However, there are some challenges faced by SMEs and within supply chains that demonstrate why a one-size-fits-all model just doesn't work. Given that 60% of our Supporters are SMEs, Mates in Mind is working with these organisations to understand their specific needs and drive a positive cultural change throughout the industry.  Overall though, we are greatly encouraged to see more and more businesses opening up to Mates in Mind and how they should be addressing this issue.
"We are finding our approach, including our Think, Talk, Tackle model, is resonating with our Supporters. It's a relatively simple message that at the heart of it stresses the need to talk, but in doing so, also highlights that it is about enabling people to take action at an individual as well as at a collective level.
"However, it is still all too often that employers are reaching out to us for support once they have reached a crisis point that may be ongoing or is in the recent past. Whilst we provide much needed support and clarity in such situations, we want business leaders to address this issue now.  Putting in place strategies, training and better understanding that will build towards a culture of prevention and ideally avoid a crisis altogether – just as is commonplace with risks to physical health.
"This is why addressing mental health is more than just a single conversation about stigma at work, it really is about busting that taboo and changing cultures on an ongoing basis. So, it is important that during Mental Health Awareness Week businesses celebrate the work that they are doing to address mental health, but equally important that we all remain focused on this every day.
"The Mates in Mind team are here to support any organisation regardless of at what point they may be wanting to start their conversation, and encourage them to reach out to us."